Precision Sheet Metal Fabrication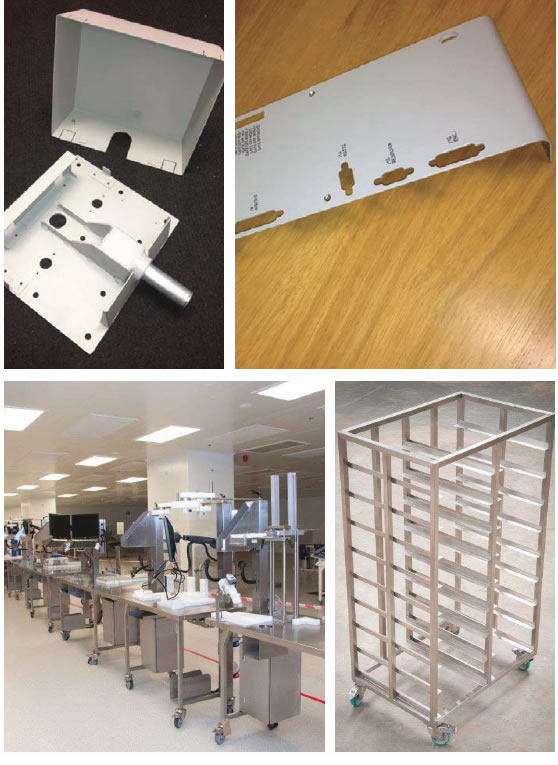 We aim to meet and surpass your Sheet Metal Fabrication requirements to the highest standards of quality, delivered when you require it, and at a very competitive price. To put our vast experience in metal fabrication at the disposal of your company. To input in a positive manner at design and engineering thereby reducing your unit costs.
We offer a complete range of Precision Sheetmetal Fabrication Services. Our product range includes: Cabinetry, Bracketry, Enclosures, Busbars, Panels for the Medical, Military, Telecommunications, Leisure and General Electronic Sectors.We will meet your full production requirements as well as offering prototyping and design verification services.
Our Capabilities
Precision Fabrication : man_using_machine.jpg Steel, Stainless Steel, Aluminium, Copper, Brass, Zintec, Galvanize and Pre Coated materials.
Fabrication : Brackets, Housings, Enclosures, Chassis, Bus Bars, Cabinets, Panels, etc.
Processes : CNC Punching, CNC Controlled Forming, Spotwelding, Mig, Tig & Aluminium Welding, De-Burring, Pemming, Assembly, Silkscreening, Painting, Plating.
Our Equipment
Software : Radan CAD/CAM 3D Modelling Design System, Autocad, e2i Production Control System.
Punching : europe245_2.jpg Amada Aries 245 CNC Punch Press. Amada Arcade 210 CNC Punch Press.
Forming : Amada HFB 50 20 8 Axis Operateur 2 CNC Press Brake. Amada HFE 80 25 7 Axis Operateur 2 CNC Press Brake. Amada ITS 50 20 5 Axis Operateur 1 CNC Up Stroke Press Brake .
Welding : Esab Tig 3000i Programmable AC/DC Welder Cebora Mig Welder . Tig Inverter - Tig Welder . Meritus 30 KVA Water Cooled Spot-Welder. S.I.P 25 KVA Water Cooled Spot-Welder.
Pemming : Haeger 618 Press withAutomatic Feed Pem Series 4 Hardware Insertion Machine
Deburring : Grindingmaster MCSB 600 Linisher Spiratron "O" Series Vibrating Tumbler . RAS Duomax Deburring machine. Sealey 3M De-Burring Station . CEA.
Finishing : Full Range of plating and painting finishes. Silkscreen printing.
Image Gallery
Other Pages
Request Call Back
CONTACT US NOW
Tel : + 353 21 4772068
Mob : +353 87 2572155
Fax : +353 21 4777605
Email :[email protected]